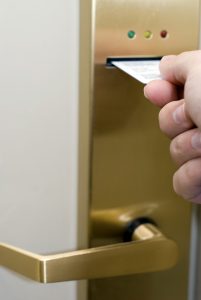 Hotel Security: What Questions Should I Ask Before Check-In?
Hotel guests have a right to feel safe and secure while staying on property. However, Travel + Leisure magazine reports, while hotel security is "one of the industry's most important issues," it is also one of the "least discussed." As such, they urge business and leisure travelers to ask questions prior to booking their hotel.
John C. Fannin, CEO of SafePlace Corporation, outlines questions guests should ask prior to making a reservation:
Does the hotel employ round-the-clock security personnel? "A hotel can have closed-circuit TV," he says, "but if there's no one to respond, it's not a comprehensive security program."
Does the hotel require all guests to present a government-issued photo ID, driver's license, or passport when registering?
Does the hotel restrict access to guest-room floors to those staying there?If so, how is this enforced?
Has the staff received security and emergency-management training?
Read the full article at Travel + Leisure.
Victims of Hotel Security Negligence: What Are My Legal Options for Justice and Compensation?
As each case and property is unique, victims of hotel crime should speak with an experienced security negligence firm as soon as possible to ensure all evidence, such as surveillance footage or broken lighting, is preserved and their best interests are protected.