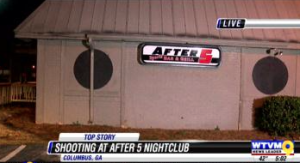 Local News
26-year-old Hollman Waller was reportedly injured during a shooting outside the After 5 Sports Bar and Grill early Wednesday, December 17, 2014.
According to WTVM News, an altercation outside the After 5 Sports Bar and Grill escalated to violence around 1:00am Wednesday morning. A large crowd was apparently in the parking lot at the time of the shooting. A friend of the victim reportedly told media Mr. Waller was trying to flee an altercation between a group of 10 men when gunfire erupted outside the nightclub. Mr. Waller suffered gunshot wounds to his lower back and leg, per media reports. He was transported to Atlanta Medical Center. His condition is unknown.
Columbus police have yet to make an arrest in connection with the shooting.
Our Legal Take
As police continue to search for a suspect, The Murray Law Firm is questioning whether another party also holds responsibility in this potentially fatal shooting: the owner and management of After5 Sports Bar and Grill.
What weapon screening procedures, such as metal detectors and bag checks, are in place to keep guns off property?

Was alcohol a factor in the initial altercation and, if so, was the assailant over-served alcohol on property prior to the shooting?

What efforts were made by nightclub security and management to disperse the large crowd and de-escalate the situation before it could erupt into violence? Were police called to the scene to assist with crowd management prior to the shooting? What attempts were made to safely and separately remove all those parties involved from the premises?

What parking lot security measures, such as bright lighting, a security patrol or police presence, and emergency call boxes, were in place to protect patrons exiting the nightclub? 
As the details of this shooting continue to emerge, The Murray Law Firm suggests that it is possible the owner and management of After 5 Sports Bar and Grill failed in their duty to protect Hollman Waller. If so, Mr. Waller may elect to hold the nightclub civilly liable for his injuries. Claims of this magnitude, potentially in the millions of dollars, would demand the nightclub implement proper security measures and send a gravely-needed message to all Columbus nightclubs on the need to make patron safety their first priority. Perhaps, through these claims, many young lives may be spared.
Photographs of the scene will need to be performed immediately before any evidence, such as surveillance footage, is repaired, damaged or destroyed. Mr. Waller should retain an experienced premises liability firm without delay to ensure all evidence is preserved and his best interests are protected.
The Murray Law Firm has extensive experience in protecting victims of nightclub violence and property negligence and we offer our legal expertise, if needed. Anyone seeking further information or legal representation is encouraged to contact us at 706.494.2800. Consultations are free and confidential.