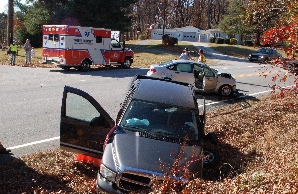 81-year-old Joan Gertrude Steele of Clayton was killed in a tragic car accident on Georgia Hwy. 115 Tuesday Nov 19. According to police reports, Ms. Steele was driving her 2010 Ford Focus eastbound on GA Hwy. 115 when a 2003 Dodge Ram pickup truck, driven by William Andrew Daniel of Cleveland, pulled out of The Cottage House Restaurant parking lot, striking Ms. Steele.
Ms. Steele was airlifted to Grady Memorial Hospital where she later succumbed to critical injuries. Mr. Daniel, 54, was treated for injuries at Northeast Georgia Medical Center in Gainesville. Charges are still pending a police investigation.
Just days before Thanksgiving, Ms. Steele's tragic accident occurred at the start of a horrific holiday week of traffic fatalities. Georgia police reported 19 fatal car accidents from Wednesday to Sunday surrounding Thanksgiving. During that time, state troopers investigated 662 traffic collisions with 263 injuries. Alcohol is suspected as a contributing factor in at least 4 deaths. Our hearts and prayers go out to the families of these victims, who lost loved ones on what should have been a joyous week.
Georgia car accident attorneys at The Murray Law Firm are investigating several of these tragic cases and remind drivers, "we are in the busiest travel season of the year and urge drivers to exercise extra caution as they drive to visit family, friends and enjoy holiday shopping."
We extend our sympathies to the family of Ms. Steele and the other victims of these tragic accidents and offer our legal assistance, if needed. Contact our legal hotline toll free at 888.842.1616.