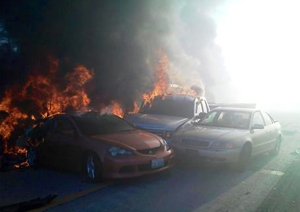 East and westbound lanes of I-16 were closed for several hours Wednesday as dense fog and smoke from a tanker truck explosion caused a deadly series of accidents, leaving 4 dead and 9 injured.
The accidents began just after 8:00am during the Wednesday morning rush hour commute on I-16 westbound, near the Bleckley and Laurens County lines. Smoke from a tanker trunk explosion, coupled with a dense fog advisory of less than a quarter mile of visibility, created a deadly scenario for rush hour drivers.
According to Twiggs County authorities, two tractor trailers caught fire and one exploded. Emergency crews responded from Twiggs, Bleckley, Laurens, and Wilkinson counties. Hazardous materials were involved, requiring all rescue personnel to initially wear HazMat gear.
In all, seven tractor trailer trucks and 20 other vehicles were involved in the massive I-16 pileup. Traffic was halted in both directions between mile markers 34-37 as injured drivers were transported from the scene to Fairview Park Hospital in Dublin.
The Georgia State Patrol reported 3 dead and 9 injured in total. While eastbound lanes reopened at 12:30pm, emergency crews continue to clear the scene in westbound lanes.
As multiple vehicles and tractor trailer trucks were involved in this horrific accident, injured victims and their families may be entitled to millions of dollars to assist with medical expenses and losses. In addition, those working during the time of this accident, such as the several tractor trailer truck drivers, would likely be entitled to substantial workers' compensation claims for their injuries. Our prayers are with the victims and families involved in this tragic accident and we offer our legal expertise, if needed.
If you have any information on this accident or are seeking information, please contact our legal hotline toll free at 888-842-1616.