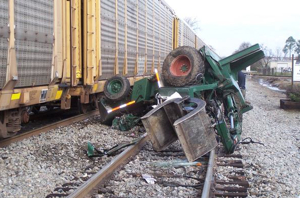 An Advanced Disposal employee, J. L. Williams of Cordele, was struck and critically injured by a train this morning while driving a front end loader.
According to initial reports, Mr. Williams was struck by a train this morning while driving a front end loader, used for for collecting debris. The accident occurred at the 22nd Avenue railroad crossing between 6th and 7th streets around 10am.
When Cordele emergency responders arrived on scene they discovered Mr. Williams had been ejected from the front end loader and was laying between two sets of tracks. He was taken to Crisp Regional Hospital for serious injuries.
Mr. Williams' sister, Freddie Mae Lewis, told the Cordele Dispatch he has "suffered multiple lacerations to the head, arms, hands and legs including a large gash on the side of his thigh." He remains in stable, but critical condition.
Mr. Williams has served 20 years in his position, originally with the City of Cordele, then with Veolia once the city contracted out waste management services, and now with Advanced Disposal who recently purchased Veolia.
As this accident occurred while Mr. Williams was working as an Advanced Disposal employee, he will almost certainly be entitled to significant compensation under Georgia workers' compensation laws. In addition to compensation available under the workers compensation code, Mr. Williams' may have additional claims against the train operator and the manufacturer of the front end loader, should it be found to have had some form of catastrophic malfunction, contributing to the accident. It is important that the family immediately retain a lawyer to assist them with this claim, as pictures and an inspection of the machine will need to be obtained before the machine is repaired. If photographs and an inspection are not obtained before the machine is fixed, the value of the case may decrease significantly.
The Murray Law Firm is investigating this horrific incident and has represented many employees in cases such as this one. "We have, unfortunately, all too often seen the value of these claims compromised as a consequence of a failure to quickly secure the assistance of an attorney. Insurance companies are concerned with limiting their financial exposure, and without a lawyer protecting the interests of these families, insurance companies work quickly to eliminate evidence detrimental to their interests. We hope that the interests of Mr. Williams and his family will be adequately protected."
Anyone seeking further information on this horrific Advanced Disposal employee accident is encouraged to contact The Murray Law Firm toll free at 888.842.1616.