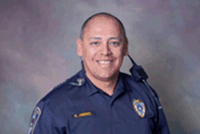 Officer Renaldo Jimenez, an 11-year veteran of the Gwinnett County Schools Police Department is listed in serious condition this morning after being struck by a car while directing traffic outside Lanier High School.
According to the Gwinnett County Police Department, Officer Renaldo Jimenez was directing traffic on Buford Highway outside Lanier High School around 6:45am Wednesday morning when he stopped traffic to allow northbound vehicles into the parent pickup zone of the school. A car driving southbound on Buford Highway failed to stop, striking the officer and another vehicle. Officer Jimenez was pinned underneath the second vehicle by his legs.
Officer Jimenez is being treated for his injuries at a local hospital and is currently listed in serious condition.
Gwinnett Police report charges are pending for the driver who hit Officer Jimenez. The second driver, who pinned Officer Jimenez, is a student and will not face charges.
As there was a posted school zone speed limit and officer Jimenez was wearing a reflective traffic vest at the time he was struck, attorneys at The Murray Law Firm are investigating whether distraction was a factor in the driver's failure to stop.
As the driver in this accident may be at fault and facing criminal charges, Officer Jimenez may elect to hold the driver civilly liable for his significant injuries. In addition, as Officer Jimenez was working at the time of the accident, he will almost certainly be entitled to significant compensation under Georgia workers' compensation laws. Total financial recovery could possibly be valued at hundreds of thousands, if not millions of dollars. Such a claim would send a much needed message to all Gwinnett County drivers about the importance of practicing extra caution in school zones as well as the perils of distracted driving.
We pray for the recovery of Officer Jimenez and offer our legal expertise, if needed. If you are seeking further information on this accident, please contact us toll free at 888.842.1616.