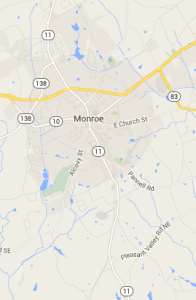 Local News
31-year-old Corey Holmes reportedly suffered critical injuries in a Highway 11 car accident in Monroe December 30, 2014.
According to The Walton Tribune, A Ford F-250 was towing a flatbed trailer westbound on Highway 11, shortly after 5:30pm, when it attempted to slow and turn into a gas station. Another westbound vehicle apparently rear-ended the Ford, sending the trailer into eastbound traffic. The trailer reportedly struck an eastbound Honda Accord driven by Corey Holmes of Monroe. Mr. Monroe was airlifted from the scene with critical injuries, per media reports.
Our Legal Take
The Murray Law Firm is following media updates of the incident closely and questions what factors, such as an equipment malfunction or driver distraction, may have contributed to the accident.
 How did the trailer become dislodged from the Ford F250. Did a faulty hitch or equipment malfunction contribute to the accident? 

Was the flatbed trailer properly hitched to the Ford F250 and inspected prior to operation? Was the hitch intended to pull the weight of a flatbed? Were proper safety locks in place to deter a runaway trailer?

How did the initial rear-end collision occur? Do cellphone records and traffic surveillance footage indicate whether speed, distraction or impairment were factors in the driver's failure to slow or stop for the turning Ford?
As the details of this investigation continue to emerge, Mr. Holmes and his family may elect to file civil claims against the vehicle owner, operator and manufacturer for his injuries, should their negligence have contributed to this accident. Further claims may also be filed with the hitch manufacturer, should a malfunction or lack of safety precautions have caused the trailer to dislodge. Additional claims may also be filed against the third driver, should distraction, impairment or speed have contributed to the initial collision.
Claims of this magnitude would send a gravely needed message to all Georgia tow operators on the need to properly inspect tow equipment and implement runaway safety features. These claims will also remind Georgia drivers to stay alert and avoid distractions, such as texting, while driving. Perhaps, through these legal claims many lives may be spared.
As multiple parties are involved, the Holmes family should retain an experienced personal injury firm without delay to ensure all evidence is preserved and their best interests are protected.
The Murray Law Firm works tirelessly to protect victims of negligent drivers and we offer our legal expertise, if needed. Anyone seeking further information or legal representation is encouraged to contact us at 404.842.1600.  Consultations are free and confidential.