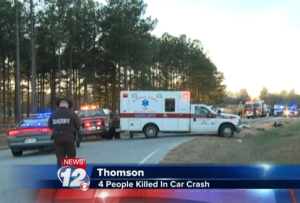 Local News
15-year-old Kamaree Spencer was critically injured in a fatal Thomson car accident, which claimed the life of his mother, 39-year-old Shaquetta 'Nikki' Barnes, and three others Sunday, December 7, 2014.
According to WRDW Channel 12, 39-year-old Shaquetta 'Nikki' Barnes was traveling in a Toyota Highlander with her son, Kamaree Spencer, and their family dog when they were struck head-on by a Lexus. Ms. Barnes and all three occupants of the Lexus reportedly perished in the crash. 15-year-old Kamaree Spencer was airlifted to the hospital with critical injuries, per media reports. His dog was also killed in the accident.
Mr. Spencer's grandfather, Eddy Roy Ruffy, is reportedly seeking answers in the death of his daughter and urging the Georgia Bureau of Investigation to perform a toxicology report on the Lexus driver. Deputy Coroner Sandy Yelton and the GBI have released conflicting statements on whether a toxicology test will be performed due to alleged backlogs at the Atlanta GBI lab.
Our Legal Take
The Murray Law Firm is following media updates of the accident closely and questioning what factors, such as speed, impairment and distraction, may have contributed to this tragedy as well as what steps the GBI is taking to ensure all families involved get the answers they deserve.
The speed limit on Augusta Hwy at Moose Club Road is 55 mph. How fast do traffic surveillance cameras and road markings indicate the Lexus was traveling at the time of the accident?

WRDW reports the Lexus crossed the center line, causing the head on collision. Do cellphone records and traffic surveillance footage indicate whether the driver was texting or engaged in other distractions at the time of the crash?

Have toxicology tests been performed on the Lexus driver and, if so, do these tests indicate whether drugs, alcohol or medications may have been involved in the driver's failure to maintain lanes?
The families of the victims deserve these answers despite an alleged "backlog" at the GBI laboratory. As test results and details of this tragedy continue to emerge, Kamaree Spencer may elect to file civil claims for his injuries and for the wrongful death of his mother, Shaquetta Barnes. Families of the other victims may also file civil claims for their wrongful deaths. Claims of this magnitude would demand investigators release their findings and send a grave message to all Georgia drivers on the need to end distracted and impaired driving.
Particularly given the conflicting statements surrounding the toxicology testing, photographs and a thorough, unbiased investigation will need to be performed immediately on behalf of the victim's families. The family of Kamaree Spencer and Shaquetta Barnes should retain an experienced personal injury firm without delay to ensure all evidence is preserved and their best interests are protected.
The Murray Law Firm works tirelessly to protect victims and families devoted by impaired and negligent drivers and we offer our legal expertise, if needed. Anyone seeking further information or legal representation is encouraged to contact us at 706.494.2800. Consultations are free and confidential.