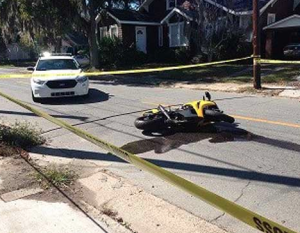 Local News
21-year-old Hunter Army Air Field Soldier, Garrett Michael Sherley, is in critical condition after a motorcycle accident Sunday morning, November 2, 2014.
According to WTOC News, Mr. Sherley was traveling a motorcycle southbound on Paulsen Street when a Chevrolet Impala crossed his path at the 39th Street intersection, causing Mr. Sherley to lose control of his vehicle and skid through the intersection. Mr. Sherley reportedly struck the rear panel of the Impala. He was transported to Memorial University Medical Center with critical injuries, around 11:15am.
Our Legal Take
Unfortunately, media coverage has focused on whether Mr. Sherley was speeding at the time of the crash rather than questioning why the Impala, who had a stop sign, was crossing the intersection in the motorcycle's path. The Murray Law Firm is questioning whether distraction may have been a factor in the Impala driver's apparent failure to either notice or yield to the Paulsen street traffic.
Per media reports, the Impala was traveling on 39th Street, which has a stop sign at the Paulsen Street intersection. Does traffic surveillance footage indicate whether the driver came to a full stop and looked for oncoming traffic?

Do cellphone records or traffic surveillance footage indicate whether the driver was engaged in distractive devices at the time of the crash?
As the details of this horrific crash continue to develop, and if the Impala driver is found to be at fault, the victim may elect to file civil claims for his injuries. Such claims will serve as a grave reminder to all local drivers of the critical need to share the road with motorcyclists.
The Sherley family should retain an experienced personal injury firm as soon as practicable to protect their interests and ensure an unbiased investigation. Photographs of the vehicles and roadways involved and a review of traffic surveillance footage and cellphone records will need to be performed immediately before any evidence is damaged or destroyed.
The Murray Law Firm has extensive experience in protecting families of catastrophic motorcycle accidents, such as this, and we offer our legal expertise, if needed. Anyone seeking further information is encouraged to contact us toll free at 912.385.9690. Consultations are free and confidential.