Local News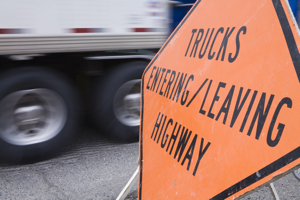 25-year-old Clayton Goolsby was killed Monday, July 14, 2014, in a fatal log truck accident on GA 22 near Milledgeville, GA.
According to The Macon Telegraph, Mr. Goolsby, of Fort Valley, was traveling eastbound in a Chevrolet pickup truck when a westbound log truck entered a curve near Stembridge Road. The logs shifted, causing the trailer to over tun onto Mr. Goolsby's pickup. Mr. Goolsby perished at the scene.
Postal delivery worker, Kim Dann, witnessed the logs coming loose and had to veer into a nearby driveway to avoid being hit. Another witness, Jennifer McMahon, commented, "My husband and I had been traveling behind this truck for 30 miles and I made sure to keep a mile distance between us…."
The accident has raised serious concerns over safety standards of trucking and logging companies in the area.
Our Legal Take
While charges have not yet been filed in this tragedy, The Murray Law Firm is questioning whether speed, mechanical malfunction or a lack of safety regulations may have contributed to this crash.
Did the log truck undergo a weight and safety inspection prior to travel? Did the cargo weight and position meet safety regulations? Were the straps used correctly and, if so, was their failure to properly handle the load due to an equipment malfunction? Did the tractor trailer itself suffer a mechanical malfunction and, if so, when was the vehicle last inspected? 

How fast was the log truck traveling as it navigated the turn? Did excessive speed on a corner cause the shift in weight?
As the details of this tragedy continue to emerge, the family of Mr. Goolsby may elect to file civil claims with the logging company,  trucking company and the truck operator. Further claims may also be filed with the manufacturer of the truck and safety straps, should a catastrophic malfunction have contributed to this horrific accident. Of course, legal proceedings are of little importance to a grieving family, however, claims of this magnitude will demand trucking and logging companies reevaluate safety standards, vehicle and cargo inspection procedures  and driver training.
Photographs and a thorough, unbiased inspection will need to be performed immediately before any evidence may be damaged or destroyed. The Goolsby family should retain an experienced personal injury attorney as soon as practicable to ensure all evidence is preserved and their best interests are protected.
The Murray Law Firm works tirelessly to protect victims and families of trucking company negligence and we offer our legal expertise, if needed. Anyone seeking further information or legal representation is encouraged to contact us at 478.246.1010.