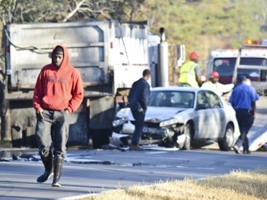 Rush hour traffic was rerouted for over an hour Wednesday morning [Dec 5, 2012] as police responded to a commercial dump truck collision on the northbound side of Westover Blvd., between Old Jim Davis Rd. and West Gordon Ave.
Around 8am, police received reports of a three-vehicle crash involving two tractor-trailer trucks and a small car. However, upon arrival, police found a two-vehicle crash (a commercial dump truck and a silver 2001 Chevy Malibu).
A significant amount of hydraulic fluid spilled during the crash, causing police to barricade the roadway and reroute traffic down Old Jim Davis Road while equipment, sand and trucks were brought in to clean up the oil. Cleanup of the northbound side of Westover is likely to continue over the next 48 hours.
According to Albany police, 23-year-old Robert Gillion was traveling northbound on Westover in his Malibu when he drifted from the roadway. As he attempted to correct himself, he hit the dump truck, puncturing the hydraulic tank. The Malibu sustained significant damage. Thankfully, police report there were no serious injuries.
Albany truck accident attorneys investigating this incident report, as Mr. Gillion appears to be at fault in this incident, the driver of the dump truck may elect to hold him civilly liable for any injuries or damage sustained. Further, as it appears the truck driver was working at the time, he may also be entitled to a substantial worker's compensation claim. The dump truck driver should retain an attorney well versed in both personal injury and worker's compensation law quickly to ensure all evidence relating to the accident is preserved and that the driver's best interests are protected.
Police have not reported why Mr. Gillion drifted from the roadway, but the Department of Transportation cites "drivers swerving in their lanes" as a common result of distracted driving. DOT Secretary Ray Lahood warns, "Every single time you take your eyes off the road or talk on the phone while you're driving-even for just a few seconds-you put yourself and others in danger."
Please help keep Georgia roads safe and put an end to distracted driving!
If you are seeking further information on this incident or are in need of legal assistance, please contact The Murray Law Firm toll free at 888.842.1616.