A 17-year-old Henry County student was struck by a car while walking home from school Wednesday afternoon, March 5, 2014.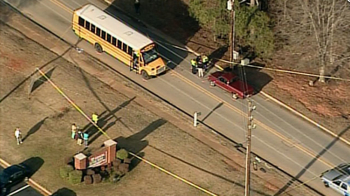 According to Henry County Police, a student was walking home from school, along Tunis Road, when he was struck by a pickup truck in front of the Eagles Landing schools. The driver was reportedly unable to stop when the child entered the roadway. The student was med-flighted to Atlanta Medical Center for non-life threatening injuries.
Shockingly, most media reports have focused on the student allegedly "darting into traffic" rather than the driver's failure to stop for a child walking in front of his school at the end of a school day or the concerning lack of pedestrian safety measures outside the Eagles Landing schools. Advocates for pedestrian rights and personal injury attorneys at The Murray Law Firm are following the accident and question whether speed or distraction were factors in the horrific crash:
The accident occurred in front of the Eagles Landing schools. How fast was the driver traveling at the time of the accident? Was speed a factor in the driver's inability to stop or swerve in time?
Was the driver engaged in texting or other distractions that caused him not to notice the child walking home from school?
What efforts have city planners and school officials made to implement sidewalks, crosswalks and caution lighting throughout the Eagles Landing school zone? Are speed limits reduced and enforced around the schools as students arrive and leave?

As the details of this accident continue to emerge, the family of this young man may elect to hold the driver civilly liable for his injuries. Such a substantial claim will serve as a grave reminder to Henry County drivers of the need to stay alert, particularly around school zones. A claim of this magnitude will also demand local officials examine pedestrian safety measures in the Eagles Landing area. Perhaps, by implementing additional sidewalks and reducing and enforcing school zone speed limits, many young lives may be spared.
The Murray Law Firm works tirelessly to protect young victims of distracted and reckless drivers and we offer our legal expertise, if needed. Anyone seeking legal representation or further information is encouraged to contact us at 404.842.1600.