Investigators are questioning whether a mechanical failure may be to blame for a Henry County accident, which claimed the life of one victim and injured another Tuesday, December 17, 2013.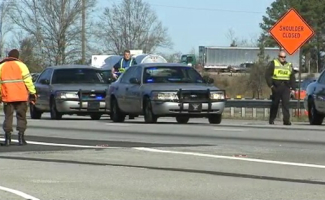 According to Henry County Police, a mechanical issue with a tire may have lead to the fatal rollover accident of a Ford F-150 Tuesday morning.
The accident occurred in the southbound lanes of I-75, just past Jodeco Road. Two people were traveling in a Ford F-150 when a tire malfunction apparently caused the vehicle to turn over, ejecting both occupants. One victim perished at the scene while the other was airlifted to Atlanta Medical Center in serious condition.
Attorneys at The Murray Law Firm are investigating this tragedy and question whether the tire malfunction was due to a manufacturer error:
Were the Ford F-150 tires part of a larger recall and, if so, what steps did the manufacturer take to notify the owner and replace the tires?
When was the vehicle last inspected or serviced? Was the vehicle serviced at a dealership and, if so, why did they fail to notice and replace the faulty tire?
Have others suffered from the same mechanical malfunction and, if so, what steps has the manufacturer taken to repair these vehicles and protect consumer safety?
As the details of this investigation continue to emerge, it is possible that the vehicle and tire manufacturers may be at fault in this horrific accident. Should a catastrophic mechanical malfunction be found to have caused this accident, the family of the deceased victim may elect to hold them civilly liable in his wrongful death. The injured victim may also hold the manufacturers civilly liable for all injuries suffered as a result of their negligence. Although legal proceedings and compensation are of little importance to grieving families, it is imperative that both the family and the injured victim retain an attorney experienced in both product liability and car accidents as soon as possible to ensure these manufacturers are held responsible and that an emergency tire or vehicle recall may be performed, if needed. Such claims may save thousands of lives.
The Murray Law Firm has extensive experience in protecting victims of car accidents and manufacturer negligence and we offer our legal expertise, if needed.
Our sincere condolences are with the family of the victim and we pray for the swift recovery of all those injured. Anyone seeking further information on our investigation into this accident is encouraged to contact us at 888.842.1616.