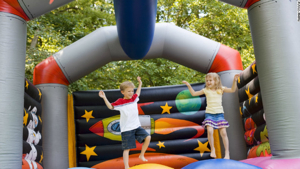 Bounce houses and inflatable indoor playgrounds have become one of the most popular forms of child entertainment at birthday parties, fairs, and malls. The lack of hard surfaces and sharp edges combined with a relatively contained space attracts parents seeking a safe, fun option for their children. Unfortunately, what starts out as a day of fun can often lead to a trip to the emergency room.
Dr. Gary Smith, a pediatric emergency physician of the Nationwide Children's Hospital, noticed a dramatic increase in children suffering from bounce house-related injuries and decided to conduct a study to see if this increase was reflected across the United States.
CNN highlights Dr. Smith's startling findings:
According to its data, the number of inflatable bouncer-related injuries rose 1,500% between 1995 and 2010.
In the last two years of the study, from 2008 to 2010, the rate of injuries more than doubled, according to the study published Monday in the journal Pediatrics.
In 2010 alone, 31 children were treated in emergency departments each day on average, according to the report. "That's about one child every 45 minutes," says Smith, who is the director of the Center for Injury Research and Policy at Nationwide Children's Hospital.
Of the nearly 65,000 children treated in U.S. emergency departments over a 20-year period, 55% of these injuries occurred between 2005 and 2010, according to the study. More than half of the injured children were in the 6- to 12-year-old age group; more than a third were under the age of 5.
Arm and leg injuries were the most common injuries. The youngest children, those under 5, were more likely to have fractures, and teenagers were more likely to sustain sprains and strains.
Nearly 1 in 5 children, or 18.5%, had head and neck injuries. However, only 3% of children required hospitalization, according to the study.
How can I prevent bounce house injuries?
Dr. Smith calls the disturbing increase "an emerging hazard, something that should be taken seriously, but something that can be prevented." One way to prevent such injuries is a call for national safety guidelines, similar to those developed for trampolines. Bouncer operators and vendors need to follow through on enforcing their own safety policies. Lastly, parents should heed the following advice from Dr. Smith:
Based on developmental abilities, don't let children under the age of 6 play in these inflatable devices.
Having one child play at a time is the safest, but that's not very realistic (or much fun), so only have children of similar age and size play inside these bouncers at one time.
Horseplay, flips and somersaults should be prohibited; that kind of play leads to the most dangerous injuries.
Always have an adult present when these devices are in use -- but not inside with the children. Adults (parents and/or bounce center operators) should be in a position to observe and intervene if children are engaging in horseplay or doing flips and somersaults.
Who is liable for my child's bounce house injury?
Injuries and wrongful deaths occur from time to time at amusement park bounce houses and indoor inflatable-bouncer playgrounds, such as Monkey Joes. Georgia premises liability lawyers are the most capable of handling such cases, and it is best that these lawyers get involved as quickly as possible to prevent the destruction of any evidence. Surveillance tapes may be destroyed after 30 days, for example, and these tapes could prove to be the most valuable evidence in pursuing a case against the indoor playground or amusement park. If your child or loved one has been injured in a bounce house-related injury and you're in need of legal assistance, please contact The Murray Law Firm toll free 888.842.1616.
CNN, the Pediatrics journal, and The Child Injury Prevention Alliance have more information on Dr. Smith's study and inflatable bouncer safety.