As the family and friends of Derryl Simmons mourn his loss, investigators are now questioning why an Atlanta Public Works employee was permitted to drive his coworkers in a town vehicle with at least one prior DUI conviction on record.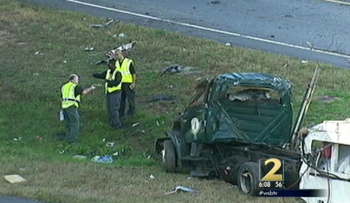 54-year-old Derryl Simmons was riding in an Atlanta sanitation truck, southbound on I-75, when his coworker swerved and lost control as he attempted to exit the highway. The truck overturned multiple times. Mr. Simmons tragically perished in the crash.
According to police, responders smelled a strong scent of alcohol on the driver's breath and discovered a half-consumed bottle of vodka at the scene. Blood tests were performed and the driver, 56-year-old Melvin Callahan, has since been charged with first degree homicide by vehicle, driving under the influence, reckless driving and failure to maintain lanes in the November 2, 2013 crash.
An investigation by The Murray Law Firm is now questioning whether another party may hold responsibility in this horrific crash: Atanta Public Works.
According to Georgia State Patrol, Mr. Callahan was arrested on prior DUI charges following a February 25, 2011 wreck on Memorial Drive and I-20. He was again arrested on Februarly 16, 2012 in connection with another DUI.
Are policies in place to keep convicted DUI drivers from operating city vehicles and, if so, how did Public Works officials fail to implement such policies in this instance?
What screening process does Atlanta Public Works use prior to issuing city vehicles to town employees? How often does the city re-screen employee driving records? Does the city perform random drug and alcohol tests on town employees who operate vehicles and heavy machinery and, if so, did Mr. Callahan ever test positive for such tests?
Was the city aware of Mr. Callahan's previous involvement in DUI incidents and, if so, why did they allow him to continue to operate city vehicles?
The tragic death of Derryl Simmons has revealed an extremely disturbing oversight in our city's Public Works department and raised concerns over employee screening and hiring negligence throughout the local government, particularly those entrusted with city vehicles and heavy machinery.
Should the city be found negligent in their failure to implement proper employee screening and hiring procedures, the family of Derryl Simmons may elect to hold them civilly liable in his wrongful death. Such a claim may be in the millions of dollars and would demand city and state officials re-evaluate employee screening policies and keep convicted DUI drivers out of city vehicles. Additionally, the Simmons family may also elect to hold Mr. Callahan civilly liable, should he be found at-fault for driving under the influence.
The Murray Law Firm has extensive experience protecting victims and families harmed by impaired drivers and negligent employers. Our prayers are with the family of Derryl Simmons and we offer our legal expertise, if needed.
Anyone seeking further information on our investigation into this incident is encouraged to contact us at 404.842.1600.