Authorities are investigating a fatal Doctortown train crash, which claimed the life of 27-year-old Sarah Jones and injured seven others, Thursday, February 21, 2014.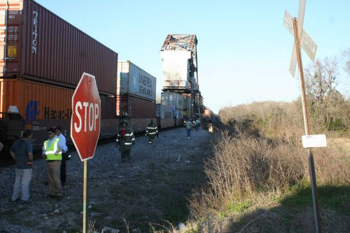 According to Wayne County Police, a 20-person film crew from Open Road Films and Savannah's Meddin Studios were filming on a Doctortown train trestle around 4:30pm Thursday afternoon. The production team was working on a movie, called 'Midnight Rider, when a freight train ripped through the set, smashing equipment and striking several crew members. Sarah Elizabeth Jones, of Atlanta, was tragically killed in the crash. Seven others were hospitalized with injuries.
Investigators have revealed the studios were filming on the Altamaha River trestle without permission from the railroad. The tracks, owned by CSX Railroad, cross through private property owned by Rayonier, a forest-products company. The film crew had permission to use the Rayonier property, but not the active train tracks.
"CSX has told me they were aware they were out there, but they did not have permission to be on the tracks," noted Detective Joe Gardner.
Catastrophic train accident attorneys at The Murray Law Firm are investigating this crash and have raised serious concerns over the studio's apparent lack of concern for employee safety and the railroad's failure to practice caution despite acknowledgment of the crew's presence.
Given the railroad's expressed knowledge of the film crew's presence, were train conductors notified to take proper precautions in this area? What safety precautions, such as reduced speed and cautionary whistles, were taken to ensure safety of both railroad and film production crews?
Why did the studio allow employees to risk their lives by utilizing active tracks without first obtaining permission? Was the studio attempting to capture an approaching train on film, intentionally endangering the lives of employees?
As the details of this tragedy continue to emerge, the family of Sarah Jones and all the injured victims may elect to hold both the film studio and railroad civilly liable, should their negligence have contributed to this horrific crash. Additionally, as these victims were working at the time of the accident, they are almost certainly entitled to workers' compensation benefits. Total claims may be in the millions of dollars and would demand these companies finally make safety their first priority. Railroad cargo deadlines and film studio location budgets cannot come before lives.
Our sincere condolences are with the family of Sarah Jones and we pray for the swift recovery of the many injured victims. The Murray Law Firm has extensive experience in protecting victims of catastrophic train accidents, such as this, and we offer our legal expertise, if needed. Anyone seeking legal representation or further information is encouraged to contact us toll free at 888.842.1616.