The family and neighbors of 2-year-old, Brandy, are coming together amid tragedy to remember the life of the sweet young girl taken from them much too early.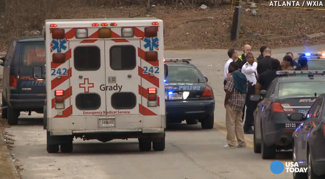 According to Atlanta Channel 9 News, a daycare van stopped to drop off children in a residential neighborhood off Metropolitan Parkway Tuesday afternoon, February 18, 2014. After letting the children off, the driver then backed up, striking a young toddler who had been standing behind the vehicle. The 2-year-old girl was rushed to Grady Memorial Hospital where she later succumbed to injuries.
Family and neighbors held a candlelit vigil Tuesday evening to celebrate Brandy's life as they mourn her passing. "We will miss her very much," offered an emotional Bennie Jackson, recalling his granddaughter's "sweet personality."
The tragedy has left a community grief-stricken and raised several concerns over daycare driver training and the safety regulation of daycare transport vehicles:
Did the daycare van meet safety standards as a child transport vehicle? When was the vehicle last inspected and updated for passenger safety? Was the vehicle equipped with mirrors, reverse cameras, back-up sensors and reverse signals?
Did the daycare provide proper safety training and certification for the driver charged with the care and transport of children? Considering the driver had just released children into a residential neighborhood, what efforts were made to check and clear the area around the vehicle prior to reversing?
As the details of this tragedy continue to emerge, Brandy's family may elect to hold the owner and operator of the daycare van civilly liable in her wrongful death. Such a claim may be in the millions of dollars and would, most importantly, demand local and state officials re-evaluate the safety regulation of daycare transport vehicles and the certification of daycare drivers. Perhaps, by mandating proper driver training and vehicle safety equipment, thousands of young lives may be spared.
The Murray Law Firm protects young victims and families left devastated by daycare and driver negligence and was particularly saddened to learn of the loss of such a young child. Our sincere condolences and prayers are with Brandy's family and we offer our legal expertise, if needed.
Anyone seeking legal representation or further information is encouraged to contact us at 404.842.1600.