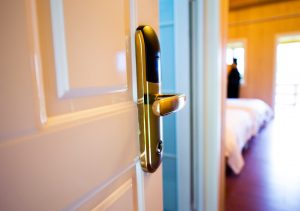 Business and leisure travelers frequently check reviews, amenities, and location prior to booking a hotel. However, most hotel guests neglect to research security measures prior to their stay. These tools are not typically highlighted on a hotel website or at check-in, both to keep such information out of potential criminal hands and to avoid alarming guests. Hotel owners want to put their guests at ease and a lengthy list of safety and security features may cause concern. As such, property owners and managers undertake the enormous responsibility of overseeing the safety and security of all guests and visitors to their hotel.
Hotel guests have a right to feel safe and secure on property and it is the responsibility of the hotel owner and management to protect all those enjoying the property from any foreseeable harm. Allied Universal, a hotel security service provider, urges hoteliers to implement the following security solutions:
Maintain Security Minded Customer Service

Front desk staff and valets are trained to embody a customer first, customer service model. While maintaining friendly, responsive interactions with customers is crucial, it is also important to vigilantly follow all security protocols.

Key Card Access Review

With a few pieces of hardware and minor programming, it is possible for a criminal to gain undetectable entree to millions of key card protected hotel rooms….Hoteliers should remind all guests of the security safeguards they offer and remind guests to use their lock bars and chains and dead bolts when retiring for the evening. Room safes or securing valuables at the front desk should also be recommended if available. 
Establish Evergreen Background Screening Protocol 

While the hotel industry is ahead of the curve on ensuring that applicants complete comprehensive background screening, not all hoteliers are as vigilant when reviewing the processes of their contract partners such as landscaping and security. In addition, background screening should be an evergreen process….Re-screening employees annually can help hoteliers maintain the high level of quality staff they desire. 

Control After Hours Access

For maximum safety, posting security personnel at front entrance and other access points is vital. Security personnel are able to report suspicious activity, conduct property tours and protect guests and guest information from outsiders. This effort shouldn't end when the sun goes down and foot traffic in the lobby slows. An around-the-clock security presence is a strong deterrent to unwanted activity and a clear signal to guests that your property is secure. Also ensure that your up-to-date closed circuit system is tracking all of the hotel's public areas, including the parking lot, gym, restaurants, loading dock, etc.

Assess Location and Local Crime Statistics

All hotels are not created equal in terms of area crime statistics. A hotel in a rural community will have a very different crime profile than one in an urban market….This knowledge is power and can lay the groundwork for your hotel's safety and security plan. 

Security Officers that Welcome and Protect

Hotels must foster an inviting atmosphere for guests while ensuring safety and security. Presenting security personnel in a customer service role with officers dressed in upscale business clothing rather than traditional police or military style uniform, makes for a more accessible presence. This careful balance of customer service and security requires experience, specialized training and supervision. When your guests feel that they are both welcome and watched-over, they will feel more comfortable. 

Maintain Emergency Response Plan and Team

The collaboration between law enforcement and private security needs to extend beyond on-the-spot information sharing. Proactive security efforts and emergency planning initiatives should also involve everyone with a vested interest in safety and security. As hotels proactively implement prevention and response plans for everything from workplace violence to natural disasters, security professionals are quick to recommend the involvement of local law enforcement agencies and first responders. Existing plans should be reviewed annually, and evacuation and response drills, as well as and other training sessions should include those external groups as well. 

Commitment to Ongoing Training

Hotels are held to extraordinarily high standards with regard to safety and security. It is critically important that all hotel staff be trained on appropriate security procedures for all high traffic areas including the lobby, front desk, baggage storage area, guest entry points, valet, and parking lot and receiving dock areas. The open environment fostered by hotels is welcoming to guests and visitors but, unfortunately, also creates vulnerabilities that must be addressed. Ensuring that all public spaces are continually monitored by staff and security personnel is crucial in maintaining a hospitable environment.

Read full article at Allied Universal.
Victims of Hotel Security Negligence: What Are My Legal Options for Justice and Compensation?
As each case and property is unique, victims of hotel crime should speak with an experienced security negligence firm as soon as possible to ensure all evidence, such as surveillance footage or broken lighting, is preserved and their best interests are protected.
We Fight for Victims of Property Security Negligence in Georgia. Contact us Now for a Free Consultation.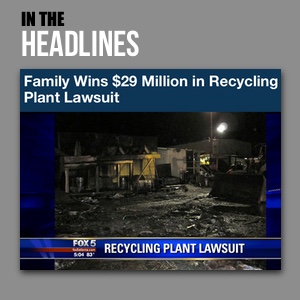 The Murray Law Firm has recovered millions of dollars for victims of unsafe properties in Georgia, and recently obtained a $29.25 million dollar verdict for one of our Clients in Fulton County State Court.
We represent our Clients on a contingency agreement, which generally means that no fees or payments are owed until and unless we recover. Anyone seeking further information or legal representation is encouraged to contact us via e-mail (click here) or by telephone at 888.842.1616. Consultations are free and confidential.

Choosing the Right Attorney
Selecting the right attorney for you or your family is highly important. You must feel confident that the attorney you hire has a complete understanding of the law applicable to your particular case, and has successful experience in handling such cases.
Important: Do not hire a lawyer who has violated the Rules of Professional Conduct!!!
You should not hire an attorney who calls you or visits you unsolicited, or anyone that contacts you directly to offer legal services. This activity is strictly prohibited by Rule 7.3 of the American Bar Association (ABA) Model Rules of Professional Conduct, which states as follows:

A LAWYER "SHALL NOT" CONTACT A PROSPECTIVE CLIENT THROUGH A "LIVE TELEPHONE" OR AN "IN-PERSON" VISIT.
– RULE 7.3, ABA MODEL RULES OF PROFESSIONAL CONDUCT.
If an attorney, or someone acting on behalf of an attorney, contacts you in this manner, that attorney is in violation of this Rule. This unethical and unprofessional activity on the part of the lawyer is good sign that you should stay away. It is imperative that you are represented by an attorney who is capable of advocating for you within the confines of the law, and an attorney who fails to abide by the Rules of Professional Conduct is probably not the best fit. In fact, any such attorney should be immediately reported to the local State Bar Association. If you have been contacted in such an unsolicited manner, contact us and we'll assist you in filing a report.


Contingency Fees Disclaimer: "Contingent attorneys' fees refers only to those fees charged by attorneys for their legal services. Such fees are not permitted in all types of cases. Court costs and other additional expenses of legal action usually must be paid by the client."