OSHA has launched a regional program, which focuses on reducing illness and injury at southeastern chicken processing facilities.
OSHA Regional News Release:
Poultry workers are twice as likely to suffer serious injuries and six times more likely to get sick on the job than other private sector workers, facts that are leading federal safety and health inspectors to act in four Southeastern states to reduce musculoskeletal disorders and ergonomic stressors affecting industry workers.
The U.S. Department of Labor's Occupational Safety and Health Administration today announced the launch of a new Regional Emphasis Program in Alabama, Florida, Georgia and Mississippi intended to prompt employers to protect poultry industry workers properly and reduce injury and illness rates.
In 2015, the U.S. Department of Agriculture reported that Georgia, Alabama and Mississippi ranked first, third and fifth, respectively*, among the nation's largest chicken producers, accounting for 18 of the 51 billion pounds of chicken produced in the U.S.
OSHA's emphasis program begins today with a three-month period of education and prevention outreach activities to share safety and health information with employers, associations and workers. Employers are encouraged to use this period to bring their facilities into compliance with OSHA standards, if they are not already.
The agency will then begin its targeted enforcement phase, including on-site inspections and a review of poultry processing production operations, working conditions, recordkeeping, chemical handling and safety and health programs to ensure compliance.
"The Regional Emphasis Program is designed to reduce employee exposure to crippling injuries, such as musculoskeletal disorders, and to ensure the industry records all occupational injuries and illnesses accurately," said Kurt Petermeyer, OSHA's regional administrator in Atlanta.
The emphasis program ends Oct. 25, 2016, unless extended. OSHA area offices will continue to open inspections in response to complaints, hospitalizations and fatalities.
To ask questions, obtain compliance assistance, file a complaint, or report amputations, eye loss, workplace hospitalizations, fatalities or situations posing imminent danger to workers, the public should call OSHA's toll-free hotline at 800-321-OSHA (6742). Additional information related to the emphasis program is available by contacting OSHA's Atlanta Regional Office at 678-237-0400.
Under the Occupational Safety and Health Act of 1970, employers are responsible for providing safe and healthful workplaces for their employees. OSHA's role is to ensure these conditions for America's working men and women by setting and enforcing standards, and providing training, education and assistance. For more information, visit http://www.osha.gov.
Poultry Industry Employee Rights
You have the right to:
Work in a safe place.
Receive safety and health training in any language that you understand.
Ask questions if you don't understand instructions or if something seems unsafe.
Use and be trained on required safety gear, such as hard hats, goggles and ear plugs.
Exercise your workplace safety rights without retaliation or discrimination.
File a confidential complaint with OSHA if you believe there is a serious hazard or that your employer is not following OSHA standards.
We Fight for Victims of Workplace Injuries in Georgia …Contact us Now for a Free Consultation.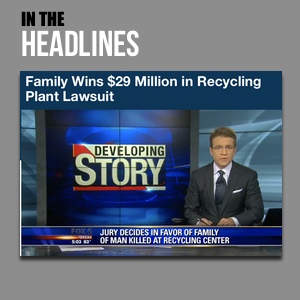 The Murray Law Firm has recovered millions of dollars for victims of unsafe workplaces in Georgia, and recently obtained a $29.25 million dollar verdict for one of our Clients in Fulton County State Court.
We represent our Clients on a contingency agreement, which generally means that no fees or payments are owed until and unless we recover. Anyone seeking further information or legal representation is encouraged to contact us via e-mail (click here) or by telephone at 888.842.1616. Consultations are free and confidential.

---
Choosing the Right Attorney
Selecting the right attorney for you or your family is highly important. You must feel confident that the attorney you hire has a complete understanding of the law applicable to your particular case, and has successful experience in handling such cases.
Important: Do not hire a lawyer who has violated the Rules of Professional Conduct!!!
You should not hire an attorney who calls you or visits you unsolicited, or anyone that contacts you directly to offer legal services. This activity is strictly prohibited by Rule 7.3 of the American Bar Association (ABA) Model Rules of Professional Conduct, which states as follows:

A LAWYER "SHALL NOT" CONTACT A PROSPECTIVE CLIENT THROUGH A "LIVE TELEPHONE" OR AN "IN-PERSON" VISIT.
– RULE 7.3, ABA MODEL RULES OF PROFESSIONAL CONDUCT.
If an attorney, or someone acting on behalf of an attorney, contacts you in this manner, that attorney is in violation of this Rule. This unethical and unprofessional activity on the part of the lawyer is good sign that you should stay away. It is imperative that you are represented by an attorney who is capable of advocating for you within the confines of the law, and an attorney who fails to abide by the Rules of Professional Conduct is probably not the best fit. In fact, any such attorney should be immediately reported to the local State Bar Association. If you have been contacted in such an unsolicited manner, contact us and we'll assist you in filing a report.


Contingency Fees Disclaimer: "Contingent attorneys' fees refers only to those fees charged by attorneys for their legal services. Such fees are not permitted in all types of cases. Court costs and other additional expenses of legal action usually must be paid by the client."