An early morning accident at the intersection of Donald Lee Hollowell Parkway and Fulton Industrial claimed the life of 12-year-old Syumia Knight Friday, November 22, 2013.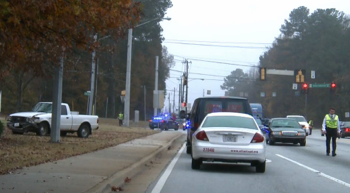 According to Atlanta Police, Syumia Knight and a female driver were headed westbound on Donald Lee Hollowell Parkway when an eastbound white pickup truck attempted to turn left onto Fulton Industrial Boulevard. The truck clipped the westbound vehicle, sending it spinning across the roadway. Both the female driver and Miss Knight were rushed to the hospital. Tragicially, the young girl perished from injuries sustained in the crash.
Robert Culver has been charged with failure to yield while turning and second degree vehicular homicide. Mr. Culver did stop and assist police in the accident reconstruction.
Although investigators do not believe alcohol impairment contributed to this accident, attorneys at The Murray Law Firm are questioning why the pickup truck driver misjudged the turn and whether distraction may have been a factor.
Georgia Governor's Office of Highway Safety reports, "new national data is showing driver inattention is a key cause in most crashes and near-crashes."
As details of this accident continue to emerge, the family of Syumia Knight may elect to hold the pickup truck driver civilly liable in her wrongful death. Although legal proceedings are of little importance to a grieving family, such a substantial claim will not only serve to remind Georgia drivers of the perils of distraction, but also demand local officials to re-examine traffic safety at the Donald Lee Hollowell Pkwy and Fulton Industrial Blvd intersection. An experienced personal injury firm should be retained as soon as practicable to ensure all evidence is preserved and the best interests of the Knight family are protected.
Our deepest condolences and prayers are with the family of Syumia Knight. The Murray Law Firm has extensive experience in protecting victims and families of tragic car accidents, such as this, and we offer our legal expertise, if needed.
Anyone seeking further information on our investigation into this accident is encouraged to contact us at 404.842.1600.