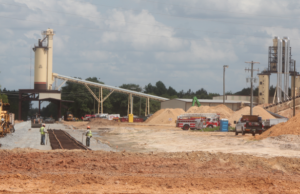 Local News
An explosion at the Hazlehurst Wood Pellets mill reportedly injured four people Tuesday, May 5, 2015.
According to WJCL News, at least one explosion occurred at the Hazlehurst Wood Pellets mill, off Hulett Wooten Farms Road, Tuesday afternoon. One person was air-lifted from the scene, per media reports. Three others were transported to the hospital with injuries.
Authorities have not yet identified the cause of the initial explosion.
Our Legal Take
The Murray Law Firm is following updates of the mill explosion closely and questioning what factors, such as combustible dust or an equipment malfunction, may have contributed.
A December 2014 report on the dangers of combustible dust accumulation in wood pellet plants noted new industry standards and advancements in dust control system design. Was combustible dust a factor in this explosion and, if so, was the mill in compliance with OSHA regulations and the latest industry recommendations?

When did the facility last undergo a safety inspection? Was the explosion a result of a catastrophic equipment malfunction or a lack of mechanical or procedural safeguards?
Based upon its experience in handling these types of cases, The Murray Law Firm suggests that the victims in this matter may have multiple avenues of redress to seek compensation and justice.  At the outset, as the injured victims were most likely in the course and scope of their employment at the time of the explosion, they are almost certainly entitled to substantial workers' compensation benefits per Georgia law.  Under Georgia Statute O.C.G.A. § 34-9-200.1, severe burn injuries receive automatic designation as a catastrophic injury.  The statute reads as follows:
"Catastrophic injury" means any injury…[that involves] [s]econd or third degree burns over 25 percent of the body as a whole or third degree burns to 5 percent or more of the face or hands…."
The designation of an injury as catastrophic under the Workers' Compensation Act is significant as it entitles an injured worker to additional benefits that might not otherwise be available.  For example, a typical injured employee may only be entitled to a maximum of 400 weeks of workers' compensation indemnity payments.  A catastrophically injured worker, however, may be entitled to these payments for life.  This distinction is important to an injured worker's family, as it will ensure guaranteed income for as long as their loved one is unable to return to gainful employment.  It is, thus, important that the victims in this case quickly retain an attorney who thoroughly understands the Georgia workers' compensation system so as to ensure that their injuries, if appropriate, are immediatley designated as catastrophic.
In addition to workers' compensation claims, other legal options may be available to the injured victims.  Although the Georgia Workers' Compensation Act prohibits employees from directly suing their employer for injuries received on the job, the explosion in this case may have been caused by an inadequate dust control system or malfunctioning equipment.  If this is the circumstance, the injured workers may bring a negligence case against the manufacturers or installers of any such machinery.  Under such a case, in addition to workers' compensation benefits, the injured victims may be entitled to substantial monetary compensation for: pain and suffering; past and future medical expenses; loss of wages and future earning capacity; disfigurement; and emotional distress.  Given the complexities of pursuing such a case, it is imperative that the victims immediately retain an attorney who can ensure the preservation of any and all evidence that may support such a claim.  If the machinery is discarded during the course of clean up, the victims may lose the possibility of pursuing such a case.  Thus, based upon its prior experience in handling these types of cases, The Murray Law Firm suggests that photographs and a through, unbiased inspection of the scene will need to be performed immediately, before any evidence may be repaired, damaged or destroyed.
We are here to Help. Contact us for a Free Consultation.
The Murray Law Firm has extensive and successful experience in representing victims of catastrophic work injuries in Georgia, and we have handled cases such as this one that involve severe burn injuries stemming from a factory explosion.   We offer our legal assistance to the victims in this potential claim, if desired.  Anyone seeking further information or legal representation is encouraged to contact us at 912.385.9690 or, toll free, at 888.842.1616. Consultations are free and confidential.
______________________________________________________________________________
Choosing the Right Attorney
Selecting the right attorney for you or your family is highly important. You must feel confident that the attorney you hire has a complete understanding of the law applicable to your particular case, and has successful experience in handling such cases.
Important: Do not hire a lawyer who has violated the Rules of Professional Conduct!!!
You should not hire an attorney who calls you or visits you unsolicited, or anyone that contacts you directly to offer legal services. This activity is strictly prohibited by Rule 7.3 of the American Bar Association (ABA) Model Rules of Professional Conduct, which states as follows:

A LAWYER "SHALL NOT" CONTACT A PROSPECTIVE CLIENT THROUGH A "LIVE TELEPHONE" OR AN "IN-PERSON" VISIT.
– RULE 7.3, ABA MODEL RULES OF PROFESSIONAL CONDUCT.
If an attorney, or someone acting on behalf of an attorney, contacts you in this manner, that attorney is in violation of this Rule. This unethical and unprofessional activity on the part of the lawyer is good sign that you should stay away. It is imperative that you are represented by an attorney who is capable of advocating for you within the confines of the law, and an attorney who fails to abide by the Rules of Professional Conduct is probably not the best fit. In fact, any such attorney should be immediately reported to the local State Bar Association. If you have been contacted in such an unsolicited manner, contact us and we'll assist you in filing a report.