Local News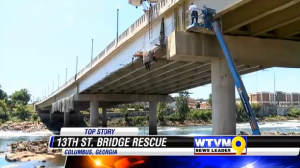 Emergency crews made a harrowing recovery over the 13th Street Bridge Wednesday morning, July 16, 2014, when a construction worker became injured and stranded high above the Chatahoochee River.
WTVM News reports, a Columbus construction worker was struck by a network of chain link metal while working on the side of the 13th Street Bridge, which connects Columbus to Phenix City. The metal, which serves to trap falling debris, came lose and struck the worker, leaving him injured and immobilized over the waters. Supported only by his safety harness and cable, the worker was left dangling beneath the bridge in audible pain for several hours as emergency crews worked to free him. A high-angle rescue team was able to stabilize the victim lowering him in a stokes basked to the river shore and then back up over the bridge.
The victim was transported to the hospital. Thankfully, the battalion chief reports the injuries are non life-threatening.
Our Legal Take
As the victim was working at the time of his accident he is almost certainly entitled to workers compensation benefits per Georgia law. In addition to compensation available under the workers compensation code, the victim may have an additional claim against the bridge inspector and metal sheeting manufacturer, should their negligence have contribute to this accident.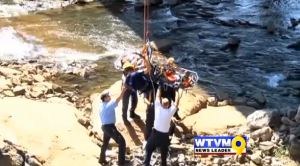 Unfortunately, employers and insurance companies are often most concerned with getting employees back to work quickly rather than their long-term needs and medical care. As such, it is imperative the victim retain an attorney experienced in workers' compensation and personal injury immediately to ensure their best interests are protected. A thorough inspection of all equipment and structures involved must be performed before any evidence may be removed, damaged or destroyed.
The Murray Law Firm has extensive experience in protecting victims of catastrophic construction accidents, such as this, and we offer our legal expertise, if needed. Anyone seeking further information is encouraged to contact us at 706.494.2800.