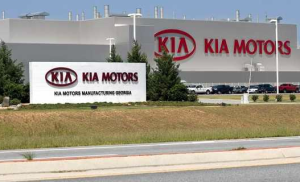 Local News
OSHA is reportedly investigating the Tuesday afternoon, October 7, 2014, death of Kia plant employee John Dunnivant in West Point, GA.
According to the Ledger-Enquirer, Troup County authorities responded to a fatal accident at the Kia assembly plant shortly after 11:00am Tuesday morning. 57-year-old John Dunnivant apparently perished at the scene.
OSHA is reportedly investigating the accident and details have not yet been released.
Our Legal Take
Advocates for workers' rights at The Murray Law Firm are following the OSHA investigation closely and question whether a facility safety lapse or equipment malfunction may have contributed to this tragedy.
Was the accident a result of a catastrophic equipment malfunction?

What emergency safety precautions were in place to protect employees at the time of the accident and how did these precautions fail?
By law, as Mr. Dunnivant was apparently working at the time of this tragedy, his family is almost certainly entitled to substantial workers' compensation benefits. Additional claims may also be filed should a fatal equipment malfunction have contributed to this tragedy. Claims of this magnitude will demand Kia reevaluate safety protocols, training and equipment.
The Dunnivant family should retain an experienced workers' compensation firm without delay to ensure all evidence, such as broken or faulty equipment, is preserved and their best interests are protected.
The Murray Law Firm works tirelessly to protect families devastated by catastrophic work accidents and we offer our legal expertise, if needed. Anyone seeking further information or legal representation is encouraged to contact us at 706.494.2800. Consultations are free and confidential.