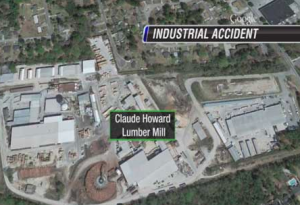 Local News
A fatal accident at the Claude Howard Lumber Mill reportedly claimed the life of 32-year-old Salvador Hernandez Monday, October 27, 2014.
According to WTOC News, Mr. Hernandez was working on a piece of equipment at the Claude Howard Lumber Mill, off Gentilly Road, when the machine he was attempting to repair fatally pinned him.
The U.S. Occupational Safety & Health Administration (OSHA) is now investigating the tragic accident. OSHA warns, "Working in a sawmill is one of the most dangerous occupations in the United States. The equipment poses numerous hazards. Massive weights and falling, rolling, and/or sliding logs can be very dangerous….Workers have a right to safe workplace. The law requires employers to provide their employees with working conditions that are free of known dangers."
Our Legal Take
Advocates for employee rights at The Murray Law Firm are following the accident closely and question whether a fatal safety lapse or catastrophic equipment malfunction at the lumber mill may have contributed to this tragedy.
When was a safety inspection last performed on the lumber mill machinery? Were all required safety guards and emergency stops in place to protect employees handling the machine and, if so, how did these safety measures fail? Was the accident a result of an equipment malfunction or a failed safety guard?

Mr. Hernandez reportedly climbed onto the equipment while attempting to repair it. What safety precautions and training were provided by the lumber mill to protect employees performing such repairs? How did these safety precautions fail?
As Salvador Hernandez was working at the time of his death, his family is almost certainly entitled to substantial workers' compensation benefits per Georgia law. Additional claims may also be filed against the equipment manufacturer, should a mechanical malfunction or safety guard failure have contributed to this tragedy. Claims of this magnitude will serve as a grave reminder to the Claude Howard Lumber Mill and all Georgia lumber mills on the need to make employee safety their first priority. By demanding companies implement proper safety precautions, equipment, inspections, and training, many other lives may be spared.
Photographs and a thorough, unbiased inspection of the facility will need to be performed on the Hernandez family's behalf without delay to ensure all evidence is preserved and their best interests are protected. Unfortunately, employers and insurance companies are often more concerned with limiting their own financial exposure than protecting victims and their families. As such, having an experienced workers' compensation firm to handle such negotiations can often mean the difference of hundreds of thousands of dollars.
The Murray Law Firm works tirelessly to protect victims and families devastated by catastrophic work accidents and we offer our legal expertise, if needed. Anyone seeking further information or legal representation is encouraged to contact us at 912.385.9690. Consultations are free and confidential.