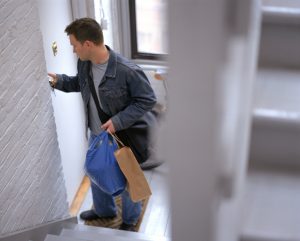 Apartment living comes with a unique set of security challenges, as residents do not have complete control over outside access to community spaces and property security measures. However, there are some security precautions apartment residents can take to reduce these risks and deter crime.
The Atlanta Police Department offers 10 tips apartment residents can take to protect themselves and their families. Officer B.M. Roberts urges, "Following these security measures will minimize potential danger to your person and your valuables."
1. Chain locks offer little protection and cheap locks can be disabled easily. If the apartment does not have a good deadbolt lock on the door, ask permission of the apartment manager to put one on the door. Do be certain that the management has a key if they need to gain access into your apartment.

2. Never leave your apartment door unlocked. This includes when you leave to get the mail or take out the trash. Someone lurking in the breezeway could gain access quickly.

3. Most apartment complexes have peepholes already installed on the door. If not, ask if you can install one for your added safety.

4. Never open your door to a stranger. Require all utility/repair men to provide identification before opening the door and allowing entry into your apartment. If there is no peephole, have the repairman slip the ID under the door so you can check it out. If still uncertain, look up the telephone number, (do not accept one they give you) and call to verify the information.

5. When away from home, use timers for radios, televisions and lights so that the home looks occupied. If you will be away for a while, get a buddy system going with a trusted neighbor to keep an eye on each other's home.

6. It is a good idea to buddy up with a neighbor to do laundry. Many complexes keep these doors locked allowing keys only to tenants. Unfortunately this is not always the case and laundry rooms can pose danger if kept unlocked allowing transients and criminals access.

7. Do not hesitate to call the police immediately if you see suspicious activity. Then take steps to report it to the Apartment Manager. If you report it to the manager first it may be too late for would be criminals to be caught in the act. The police cannot do anything after the fact if the apartment manager is slow about calling the police or waits until the next day to report the incident.

8. Law Enforcement and Crime Prevention officials advise keeping a light on at night. As a general rule apartment complex property is well lit up. If you notice that a light is out, notify the management. It could take days before the management becomes aware. A well-lit area is the best way to prevent vandalism.

9. Because of the large amount of vehicles in one area, complex parking lots are a target for vandalism. To avoid damage to your car, do not leave valuable items within visibility. Do keep doors locked and park in well lighted areas if possible.

10. Use only your first initial on the door, mailbox, and in the phone book.
Know Your Rights
Apartment residents have a right to feel safe and secure while on premises. By law, apartment owners and management companies are required to protect all residents and guests legally on the premises from any foreseeable harm.
We Fight for Victims of Apartment Security Negligence in Georgia…Contact us Now for a Free Consultation.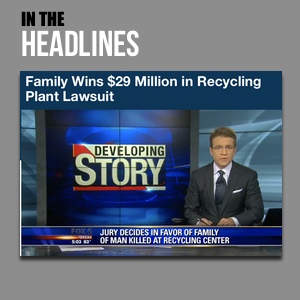 The Murray Law Firm has recovered millions of dollars for victims of unsafe properties in Georgia, and recently obtained a $29.25 million dollar verdict for one of our Clients in Fulton County State Court.
We represent our Clients on a contingency agreement, which generally means that no fees or payments are owed until and unless we recover. Anyone seeking further information or legal representation is encouraged to contact us at 888.842.1616. Consultations are free and confidential.

---
Choosing the Right Attorney
Selecting the right attorney for you or your family is highly important. You must feel confident that the attorney you hire has a complete understanding of the law applicable to your particular case, and has successful experience in handling such cases.
Important: Do not hire a lawyer who has violated the Rules of Professional Conduct!!!
You should not hire an attorney who calls you or visits you unsolicited, or anyone that contacts you directly to offer legal services. This activity is strictly prohibited by Rule 7.3 of the American Bar Association (ABA) Model Rules of Professional Conduct, which states as follows:

A LAWYER "SHALL NOT" CONTACT A PROSPECTIVE CLIENT THROUGH A "LIVE TELEPHONE" OR AN "IN-PERSON" VISIT.
– RULE 7.3, ABA MODEL RULES OF PROFESSIONAL CONDUCT.
If an attorney, or someone acting on behalf of an attorney, contacts you in this manner, that attorney is in violation of this Rule. This unethical and unprofessional activity on the part of the lawyer is good sign that you should stay away. It is imperative that you are represented by an attorney who is capable of advocating for you within the confines of the law, and an attorney who fails to abide by the Rules of Professional Conduct is probably not the best fit. In fact, any such attorney should be immediately reported to the local State Bar Association. If you have been contacted in such an unsolicited manner, contact us and we'll assist you in filing a report.


Contingency Fees Disclaimer: "Contingent attorneys' fees refers only to those fees charged by attorneys for their legal services. Such fees are not permitted in all types of cases. Court costs and other additional expenses of legal action usually must be paid by the client."