Over one million students ride Georgia school buses twice each day. This week, Georgia celebrates National School Bus Safety Week, an opportunity to remind drivers, parents, and students to protect children on the bus and at the bus stop.
According to WNEG News, this year's theme is "Bully Free Zone," a campaign which encourages students and parents to practice safety both on and off the bus.
Georgia officials are taking this week to remind drivers that "students are unpredictable." As such, motorists are urged to "have an overall heightened safety awareness and expect the unexpected as children wait at bus stops and as they get on and off the school bus."
The National Highway Traffic Safety Administration (NHTSA) provides facts and safety tips to improve school bus safety:
Facts
School buses are designed to be safer than passenger vehicles in avoiding crashes and preventing injury.
School buses are the safest mode of transportation for getting children back and forth to school.
School buses keep an estimated 17.3 million cars off roads surrounding schools each morning.
School Buses and Seat Belts
Proper Use of Child Safety Restraint Systems in School Buses – Designed to assist in correctly securing pre-school age children in child safety restraint systems and properly securing the system to a school bus seat.
The re-use of child restraint systems in school buses after crashes   – NHTSA recommends that child restraint systems be replaced following a crash in order to ensure a continued high level of crash protection for child passengers.
School Bus Seat Belts and Carryover Effects in Elementary School Children   – Explores the proposition that the lack of seat belts on school buses increases the likelihood that elementary school children will not use seat belts in personal vehicles.
Seat Belts on School Buses   – NHTSA's answers to often-asked questions about seat belts on large (over 10,000 lb GVWR) school buses.
Riding the Bus
Riding a school bus is a great way for your child to get to school. In the United States, 23 million students take the bus to and from school each day. Unfortunately, you may already know that the greatest risk involved is not riding the school bus, but getting on and off the bus. An average of 24 school-age children die in school transportation-related crashes each year (11 occupants and 13 pedestrians). Talk to your child about school bus safety and ways to stay safe around buses.
Safety starts at the bus stop.
Your child should arrive at the bus stop at least five minutes before the bus is scheduled to arrive. Visit the bus stop with your child so you can show your child where to wait for the bus: at least three giant steps (six feet) away from the curb. Remind your child that the bus stop is not a place to run or play.
Get on and off safely.
When the school bus arrives, your child should wait until the bus comes to a complete stop, the door opens, and the driver says that it's okay before approaching the bus door. Your child should use the handrails to avoid falling.
Use caution around the bus.
Your child should never walk behind the school bus. If your child must cross the street in front of the bus, tell your child to walk on a sidewalk or along the side of the street, to a place at least five giant steps (10 feet) in front of the bus before crossing. Your child should make eye contact with the bus driver before crossing, to make sure the driver can see your child. If your child ever drops something, like a ball or book, near the school bus, the safest thing is for your child to tell the bus driver right away. Your child should not try to pick the item up because the driver might not be able to see your child.
We Fight for Victims of Pedestrian and Motor Vehicle Accidents in Georgia …Contact us Now for a Free Consultation.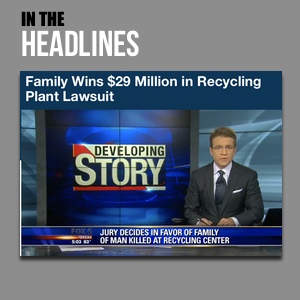 The Murray Law Firm has recovered millions of dollars for injured Clients in Georgia, and recently obtained a $29.25 million dollar verdict for one of our Clients in Fulton County State Court.
We represent our Clients on a contingency agreement, which generally means that no fees or payments are owed until and unless we recover. Anyone seeking further information or legal representation is encouraged to contact us via e-mail (click here) or by telephone at 888.842.1616. Consultations are free and confidential.

---
Choosing the Right Attorney
Selecting the right attorney for you or your family is highly important. You must feel confident that the attorney you hire has a complete understanding of the law applicable to your particular case, and has successful experience in handling such cases.
Important: Do not hire a lawyer who has violated the Rules of Professional Conduct!!!
You should not hire an attorney who calls you or visits you unsolicited, or anyone that contacts you directly to offer legal services. This activity is strictly prohibited by Rule 7.3 of the American Bar Association (ABA) Model Rules of Professional Conduct, which states as follows:

A LAWYER "SHALL NOT" CONTACT A PROSPECTIVE CLIENT THROUGH A "LIVE TELEPHONE" OR AN "IN-PERSON" VISIT.
– RULE 7.3, ABA MODEL RULES OF PROFESSIONAL CONDUCT.
If an attorney, or someone acting on behalf of an attorney, contacts you in this manner, that attorney is in violation of this Rule. This unethical and unprofessional activity on the part of the lawyer is good sign that you should stay away. It is imperative that you are represented by an attorney who is capable of advocating for you within the confines of the law, and an attorney who fails to abide by the Rules of Professional Conduct is probably not the best fit. In fact, any such attorney should be immediately reported to the local State Bar Association. If you have been contacted in such an unsolicited manner, contact us and we'll assist you in filing a report.


Contingency Fees Disclaimer: "Contingent attorneys' fees refers only to those fees charged by attorneys for their legal services. Such fees are not permitted in all types of cases. Court costs and other additional expenses of legal action usually must be paid by the client."