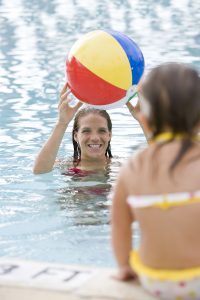 According to Pool Safely, a national campaign dedicated to reducing child drownings in swimming pools and spas, "drowning is the leading cause of unintentional death in children ages 1-4."
Unfortunately, apartment complex swimming pools are often unsupervised and swimming pool safety features are not typically within a resident's control, leaving many parents concerned for the safety of their children. Thus, it is imperative that apartment owners and managers implement proper swimming area safety measures to protect residents and guests.
The Property Management Insider urges apartment owners and management companies to keep swimming pools and spas safe for their residents by adhering to state swimming pool regulations and by implementing the following safety guidelines:
Have the Appropriate Equipment

Fences or barriers – a physical obstacle that surrounds an outdoor pool or spa so that access to the water is limited to adults – should be installed and checked for reliability. A successful pool barrier prevents a child from getting over, under or through it to gain access to the pool or spa.
The pool or spa should be checked to ensure compliance with federal and local laws and regulations.
Safety drain covers compliant with the Virginia Graeme Baker Pool & Spa Safety Act should be in place.
Pool and spa pumps should be checked to ensure proper operation.
Life-saving equipment such as life rings and reaching poles should be easily accessible.
Ask Yourself

Are there water safety rules posted in a visible area for adults and children to review?
If your property has no lifeguard, does your staff periodically monitor the pool or spa when it's in heavy use or during special events?
Do you recommend to residents who use the pool to bring their cell phone in case of emergency?

Train Your Staff in Water Safety

Property staff members should be trained and certified in first aid and emergency response.
Staff members should know how to perform CPR on children and adults. Training should be regularly updated.
Understanding the basics of life-saving – for any staff member on site – can mean the difference between life and death during a pool emergency.