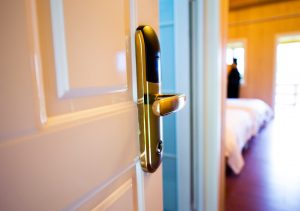 Hotel and motel guests have a right to feel safe and secure while on the premises. By law, Georgia hotel owners have a responsibility to protect their guests from violent crime, sexual assault, and foreseeable harm. Should a hotel owner fail to provide adequate security or safety measures to protect their guests, they may be held civilly liable for any injuries or wrongful deaths which occur as a consequence.
Hotel Crime Prevention
Violent hotel crimes may occur inside the hotel, in the hotel parking lot, or on hotel grounds. Implementing proper safety and security measures in all of these areas may help protect guests from injury and deter crime, such as rape, robbery and assault. Hotel security measures may include:
Bright lighting on hotel grounds, in hotel parking lots, and in all hotel common areas.
Access controls to property and rooms, including guest screening, fencing, gated-entry, ID-controlled entry, deadbolts, steel frame doors, and guest room door viewers.
Adequate staffing and surveillance cameras to monitor hotel, parking lots, grounds, amenities, and guest entrances.
Liaise with local law enforcement to maintain awareness of community crime and implement additional security precautions, as needed.
Continuous maintenance, updating and replacement of all security features.
Additionally, should the hotel have a history of crime, either on property or nearby, the owner and manager should work with local law enforcement to introduce additional security precautions to help prevent future crime.
Victims of Hotel Assault or Injury: What Are My Legal Options for Justice and Compensation?
As each case and property is unique, victims of hotel crime should speak with an experienced security negligence firm as soon as possible to ensure all evidence, such as surveillance footage or broken lighting, is preserved and their best interests are protected.