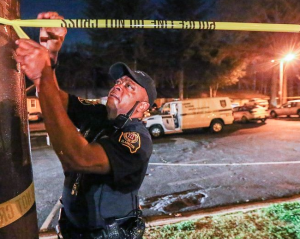 Local News
Police are reportedly investigating the fatal Portofino Apartment shooting, which claimed the life of a young man early Tuesday, March 24, 2015.
According to the AJC, Clarkston police responded to shots fired outside the Portofino Apartments, off Brockett Road, shortly after 2:30am Tuesday morning. Officers reportedly discovered the body of a male victim, in his 20s, between two cars in the apartment complex parking lot. The victim apparently perished at the scene from injuries associated with multiple gunshot wounds.
Police have yet to identify a gunman or motive in the brutal attack, leaving residents concerned for their safety.
Our Legal Take
As police continue to investigate, The Murray Law Firm is questioning whether a potentially fatal apartment security lapse may have contributed to this tragedy.
Was the shooter a resident of Portofino Apartments and, if not, how did the assailant gain entry to the property? What access-controls and security measures, such as bright lighting, security fencing, gated-entry, and security patrols, were in place to protect residents and deter crime at the time of the shooting?
Georgia apartment owners are required by law to protect residents from any foreseeable harm. Should the Portofino apartment owner and management company have failed in this legal duty, the family of this victim may elect to pursue a legal claim for negligent security. Under such a claim, his family may be entitled substantial compensation that could include: pain and suffering; associated expenses; loss of financial support; and, emotional distress. If the facts of this matter warrant such a negligent security claim, it would not only be an avenue of justice for the victim's family, but would also demand that the apartment complex re-evaluate security measures. Perhaps, through this legal claim, many families may be spared such tragedy.
Based upon its prior experience in handling negligent security claims, The Murray Law Firm suggests that photographs and a thorough inspection of the scene will need to be performed immediately on behalf of the victim's family before any evidence, such as surveillance footage or broken lighting, may be repaired, damaged or destroyed. It is imperative that all evidence be preserved to ensure that the family's interests are protected.
The Murray Law Firm has extensive and successful experience in representing families who have lost a loved one as a consequence of apartment violence and property negligence and we offer our legal expertise, if desired. Anyone seeking further information or legal representation is encouraged to contact us at 404.842.1600. Consultations are free and confidential.