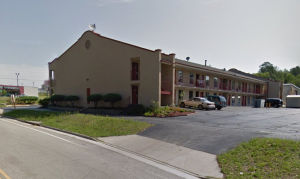 Local News
A man has been hospitalized following a stabbing at the America's Best Value Inn in Augusta Saturday, May 2, 2015.
According to The Augusta Chronicle, a man responding to a knock at his hotel room door, shortly before 1:00am Saturday morning, was stabbed by two assailants who forced their way into the hotel room. The victim was transported to Georgia Regents Medical Center with stab wounds to his chest and shoulder.
Police have not yet identified the suspects or a motive in the assault.
Our Legal Take
As police continue to search for suspects, The Murray Law Firm is questioning whether a fatal hotel security lapse may also hold responsibility in this harrowing assault.
Recent crime reports reveal a staggering number of violent crimes in the area surrounding America's Best Value Inn. What security precautions were implemented by the hotel owner and management following previous area violence to protect guests and deter such crime?

How did the assailants gain access to the hotel? What access-controls and security measures, such as bright lighting, surveillance cameras, security patrols, peep holes, and in-room door security latches, were in place at the time of the stabbing?
By law, hotel owners are required to protect all guests legally on the premises from any foreseeable harm.  Should the America's Best Value Inn owner and management company have failed in this legal duty, the injured victim may elect to pursue a legal claim for his injuries.  Under such a claim, the victim may be entitled to an award of damages that could include, among other items, substantial monetary compensation for: pain and suffering; past and future medical expenses; loss of wages and future earning capacity; disfigurement; and, emotional distress. If the facts of this matter warrant such a negligent security claim, it would not only be an avenue of justice for the victim, but would also demand that America's Best Value Inn re-evaluate security measures.  It would also serve as a grave warning to other Augusta hotel owners to make guest safety their first priority.
Based upon its prior experience in handling negligent security claims in the Augusta area, The Murray Law Firm suggests that photographs and a thorough inspection of the scene will need to be performed immediately on behalf of the victim before any evidence, such as surveillance footage, may be repaired, damaged or destroyed. It is imperative that all evidence be preserved to ensure that the victim's best interests are protected.
We are here to Help. Contact us for a Free Consultation.
The Murray Law Firm has extensive and successful experience in representing victims of security negligence in Georgia, and we offer our legal assistance to the victim in this potential claim, if desired.  Anyone seeking further information or legal representation is encouraged to contact us at 706.494.2800 or toll free at 888.842.1616. Consultations are free and confidential.