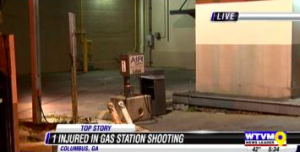 Local News
28-year-old Lawrence Jackson was reportedly shot and injured at the Macon Road Chevron station in Columbus Wednesday, January 21, 2015.
WTVM News reports, Mr. Jackson was pumping air in his tire at the Chevron gas station, shortly after midnight Wednesday morning, when he was struck multiple times in his lower torso. Mr. Jackson was transported to Grady Memorial Hospital for treatment.
LuAnn Davis Wood told WTVM news she was robbed twice while working at the Chevron station. Police have not announced whether robbery is considered in a motive in the horrific attack.
Our Legal Take
As police continue to search for the gunman, The Murray Law Firm is questioning whether a potentially fatal security lapse at the gas station may have contributed to the shooting.
Have there been previous robberies on property and, if so, what efforts were made by the gas station owner to improve safety and deter future crime?

What security measures, such as bright lighting, surveillance cameras, and police patrols, were in place and working outside the gas station at the time of the shooting?
Given the alleged history of crime at the Chevron station, The Murray Law Firm suggests that it is possible the owner and management of the Chevron gas station failed in their duty to protect Mr. Jackson.
By law, Georgia property owners are required to protect patrons from any foreseeable harm. For example, should a property owner have knowledge of previous violence on or near property, they have a responsibility to implement extraordinary security precautions to protect patrons and deter future crime.
Should the Chevron owner and management have failed in this duty, Mr. Jackson may elect to hold them civilly liable for his injuries. Claims of this magnitude would demand the gas station finally implement adequate security measures and send a grave message to other local property owners on the need to make patron safety their first priority.
Photographs and a thorough inspection of the property will need to be performed immediately before any evidence, such as surveillance footage or broken lighting, is repaired damaged or destroyed. Mr. Jackson should retain an experienced premises liability firm without delay to ensure all evidence is preserved and his best interests are protected.
The Murray Law Firm works tirelessly to protect victims of property negligence and we offer our legal expertise, if needed. Anyone seeking further information or legal representation is encouraged to contact us at 706.494.2800. Consultations are free and confidential.