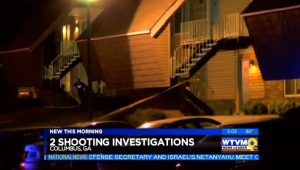 Security Lapse? Our Legal Take: Johann Gamble Killed in Pembrook Court Apartment Shooting
Local News
38-year-old Johann Gamble was reportedly shot and killed at a Pembrook Court apartment complex in Columbus Monday night, July 20, 2015, per WTOC.com and WRLB.com.
According to these reports, the fatal shooting occurred around 9:30pm at an apartment complex on the 3800 block of Pembrook Court (WTOC has identified the complex as the Pembrook Apartments). Mr. Gamble was discovered by police suffering from a gunshot wound to the upper torso, and he was reportedly transported to Midtown Medical Center where he tragically succumbed to his injuries.
Police are still searching for suspects and a motive in the shooting.
Our Legal Take
As Columbus police continue to search for suspects, The Murray Law Firm is questioning whether a potential apartment security lapse may also hold responsibility in the shooting.  The Murray Law Firm has represented, and currently represents, a number of victims of security negligence in the Columbus area.  Based on our knowledge of crime in the city, questions arise as to the level of security provided to residents and guests of the Pembroke Court apartment complex.
How did the assailant gain entry to the apartment complex? What access-controls and security measures, such as gated entry, fencing, surveillance cameras, and security patrols, were in place and working at the time of the shooting?
Has there been prior similar crime on or around the property recently and, if so, what additional security measures were taken by the owner and management company of the apartment complex?
By law, apartment owners are required to protect all residents and guests legally on the premises from any foreseeable harm.  Should the facts of this matter reveal that the Pembrook Court apartment complex owner or management company failed to provide adequate security, the family of Johann Gamble may elect to pursue a legal claim for his wrongful death. Under such a claim the Gamble family may be entitled to substantial monetary compensation for their loss.
Given the complexities of pursuing a potential negligent security case, the Gamble family should consider retaining an experienced attorney who can quickly ensure the preservation of any and all evidence that may support such a claim.  Based upon its prior experience in handling negligent security cases in the Columbus area, The Murray Law Firm suggests that photographs and a thorough, unbiased inspection of the apartment and property will need to be performed immediately, before any evidence may be repaired, damaged or destroyed.
We Fight for Victims of Security Negligence in Georgia…Contact us Now for a Free Consultation.
The Murray Law Firm has recovered millions of dollars for victims of gun violence and security negligence in Georgia, and we offer our legal assistance if desired.  Anyone seeking further information or legal representation is encouraged to contact us via e-mail (click here) or by telephone at 706-494-2800. Consultations are free and confidential.


________________________________________________________________________________
Choosing the Right Attorney
Selecting the right attorney for you or your family is highly important. You must feel confident that the attorney you hire has a complete understanding of the law applicable to your particular case, and has successful experience in handling such cases.
Important: Do not hire a lawyer who has violated the Rules of Professional Conduct!!!
You should not hire an attorney who calls you or visits you unsolicited, or anyone that contacts you directly to offer legal services. This activity is strictly prohibited by Rule 7.3 of the American Bar Association (ABA) Model Rules of Professional Conduct, which states as follows:

A LAWYER "SHALL NOT" CONTACT A PROSPECTIVE CLIENT THROUGH A "LIVE TELEPHONE" OR AN "IN-PERSON" VISIT.
– RULE 7.3, ABA MODEL RULES OF PROFESSIONAL CONDUCT.
If an attorney, or someone acting on behalf of an attorney, contacts you in this manner, that attorney is in violation of this Rule. This unethical and unprofessional activity on the part of the lawyer is good sign that you should stay away. It is imperative that you are represented by an attorney who is capable of advocating for you within the confines of the law, and an attorney who fails to abide by the Rules of Professional Conduct is probably not the best fit. In fact, any such attorney should be immediately reported to the local State Bar Association. If you have been contacted in such an unsolicited manner, contact us and we'll assist you in filing a report.