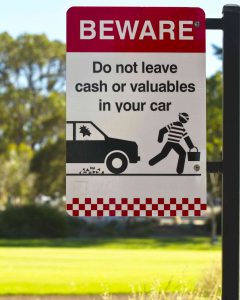 Store and mall patrons often return to their vehicles while balancing shopping bags in one hand and a phone in the other, making themselves vulnerable targets.
Safe Bee reports, "more than 1 in 10 property crimes occur in parking lots or parking garages." While parking lot and parking garage safety is the responsibility of the property owner, patrons can take steps to protect themselves. Safe Bee urges shoppers to follow three safety guidelines:
Be Prepared

Shop during daylight hours when possible. Obviously it's easier for thieves to strike under cover of darkness. Fewer people shop at night too, which ups the odds that you'll be alone in the parking lot or garage. Plan to rely on your debit or credit card for purchases; don't carry lots of cash.

Park, Lock and More

If it's an option, park in a lot with an attendant. Thieves aren't as likely to lurk where someone's on watch.

Park as near to entrance as you can. The closer you are, the less time you'll have to spend walking through the lot or garage. Choose a well-lit spot.

Don't assume that locking your car is enough to keep it safe….Don't leave tempting items visible in the front or back seat.

Heads Up!

As you're heading back to your car, have your keys out so you don't have to search through your purse or pockets. You can also use your key as a weapon.

Be alert. This isn't a good time to be caught up in texting or checking email, for example.

When you reach your car, get in, lock up and get out. Don't spend time arranging packages in your trunk or fiddling with the radio station.
Parking Lot Patron Rights
By law, business and parking lot owners are required to protect all patrons legally on the premises from any foreseeable harm. Should the property owner or management company fail to provide adequate safety and security measures, they may be held civilly liable for any injuries or wrongful deaths which occur as a consequence.