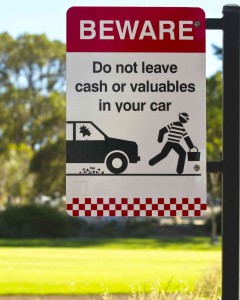 Most mall-related crime occurs in parking lots, making shoppers and drivers navigating these lots vulnerable to theft, assault and vehicle break-ins. Law enforcement officials who patrol the country's busiest malls have coordinated with Consumer Reports to help shoppers reduce their risk of becoming victims. Their advice appeared in the December 2013 issue of Consumer Reports Magazine:
Be Choosy Where You Park

Sure, that isn't always easy. But it could be worth driving around a little to find a spot in a populated area instead of settling on one in a dark, remote location, especially if you are alone. "Park in a well-lit area because criminals hate light; they don't want to be identified," said Officer Heidi Miller of the Police Department in Bloomington, Minn., home of the Mall of America.

Lock and Stow

Many parking-lot thefts occur because drivers neglect to perform the simplest task: locking the car and closing the windows. Don't allow your car to be an easy target for thieves. Hide valuables such as GPS devices, cell phones, laptops, and ­iPods. If your GPS is mounted to your windshield, pull it off and try to clean off the suction marks so that thieves don't break into the car looking for it. "Don't even leave the GPS cable," Miller said, because criminals think you're simply putting the device away in your glove box or center console. In addition, if you have an aftermarket stereo with a removable faceplate, Miller suggests removing the face and taking it with you.

Stay Focused

"People walking through the parking lot don't pay as much attention as they used to," Capt. Robert Guidetti of the Paramus, N.J., Police Department said. Instead they are checking e-mail or making calls. Look to your front, side, and rear when walking to and from a store. Being aware of your surroundings lessens your chances of becoming a victim or getting struck by a car, Guidetti says.

Assume You're Watched

Criminals watch for shoppers who put purchases in their car or trunk, then walk back into the store. Once you're gone, it can take only moments to break in and grab items. If you need to stow packages while shopping, repark your car in a different location, away from anyone who could have been observing, says Detective Bob Welsome of the New York City Police Department. Other options are to find out whether the mall has storage lockers available or ask security to hold your packages until you're ready to leave.

Don't Dally

"Walk like you have a purpose," said Officer Harry Nuskey of the Upper Merion Township, Pa., Police Department, near the popular Mall of Prussia. "Don't wander, even if you don't know where your car is." Have your car key in hand before you leave the store. It can also act as a weapon if necessary, Guidetti says. Once in your car, lock the doors immediately and drive off. Don't sit and do other things. That will lessen the chance of you becoming a target.

Beware of Stranger Danger

If you are approached or chased, yell or scream to get attention or go back to the store and alert security. If you are followed while driving, go to an open gas station or a populated area with plenty of light, Miller says. "Your best defense is a well-charged cell phone," Miller said. "Get on the phone and call 911."

Please visit Consumer Reports for the complete article.
Parking lot owners and managers are required by law to provide a safe premises for all patrons legally on their property and to prevent foreseeable third-party criminal attacks, such as rapes, shootings, assaults, or robberies. For example, should a proprietor have reason to anticipate a criminal act based on knowledge of a security lapse or a previous crime on or near property, he or she then has a duty to exercise ordinary care to deter such crime and protect those legally on their premises from harm.
We Fight for Victims of Parking Lot Security Negligence in Georgia…Contact us Now for a Free Consultation.
The Murray Law Firm has recovered millions of dollars for victims of parking lot violence and security negligence in Georgia, and we offer our legal assistance if desired.  We represent our Clients on a contingency agreement, which generally means that no fees or payments are owed until and unless we recover. Anyone seeking further information or legal representation is encouraged to contact us via e-mail (click here) or by telephone at 888.842.1616. Consultations are free and confidential.
---
Choosing the Right Attorney
Selecting the right attorney for you or your family is highly important. You must feel confident that the attorney you hire has a complete understanding of the law applicable to your particular case, and has successful experience in handling such cases.
Important: Do not hire a lawyer who has violated the Rules of Professional Conduct!!!
You should not hire an attorney who calls you or visits you unsolicited, or anyone that contacts you directly to offer legal services. This activity is strictly prohibited by Rule 7.3 of the American Bar Association (ABA) Model Rules of Professional Conduct, which states as follows:

A LAWYER "SHALL NOT" CONTACT A PROSPECTIVE CLIENT THROUGH A "LIVE TELEPHONE" OR AN "IN-PERSON" VISIT.
– RULE 7.3, ABA MODEL RULES OF PROFESSIONAL CONDUCT.
If an attorney, or someone acting on behalf of an attorney, contacts you in this manner, that attorney is in violation of this Rule. This unethical and unprofessional activity on the part of the lawyer is good sign that you should stay away. It is imperative that you are represented by an attorney who is capable of advocating for you within the confines of the law, and an attorney who fails to abide by the Rules of Professional Conduct is probably not the best fit. In fact, any such attorney should be immediately reported to the local State Bar Association. If you have been contacted in such an unsolicited manner, contact us and we'll assist you in filing a report.


Contingency Fees Disclaimer: "Contingent attorneys' fees refers only to those fees charged by attorneys for their legal services. Such fees are not permitted in all types of cases. Court costs and other additional expenses of legal action usually must be paid by the client."