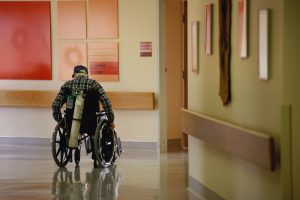 As the holiday season ushers in cooler temperatures, it is important for nursing home staff and family of nursing home residents to review fire safety plans. Reduced staff during holidays and winter fire hazards, such as space heaters, can be a deadly combination. Family members should check with nursing home administration to be sure they have an emergency preparedness and evacuation plan, particularly for residents with limited mobility.
The National Fire Protection Association (NFPA) offers a safety checklist for both family and administrators:
Families: Are Your Loved Ones Safe?

Having a loved one in a nursing home can be stressful and can often make people feel somewhat helpless….You can play a role to increase the safety of your loved one. Here are a few things to consider when either choosing or checking on someone already in a nursing home.

Is the building well maintained? Make sure that paper and other storage items do not block doors or hallways needed for escape.
Check to make sure there is an evacuation plan in place that involves all staff and is practiced regularly.
Are there safety systems in place such as alternative exits, smoke detectors, and sprinklers?
Check on the staff-to-patient ratio. How many staff per resident during the day and especially at night or on weekends and holidays? Is supervisory staff available to carryout an escape plan if there is a fire?
Are there guidelines for people who smoke such as a separate room or staff supervision?
Does nursing home management take your questions regarding safety seriously and are they forthcoming with information?

You have a right to get answers regarding the safety conditions that effect your loved one.